This FaceBook Ads tutorial is for beginners; if you know how to setup and run FaceBook Ads, this tutorial will not be of any help to you. Knowing that, lets jump in.
Whether you are a startup, a small business owner looking to improve your marketing game, or an Entrepreneur on the hunt for FaceBook Ads are the perfect marketing tool to enhance your bottom line.
Big companies can come out with advertisement campaigns that run into hundreds of millions. If your pockets are not that deep, advertising on Facebook is an excellent step forward for a medium-sized, small-sized, or a fresh startup.
Facebook ads are rated very high on the priority list of many independent companies who cannot match their competitors' enormous advertising budgets. It's simple; FaceBook Ads empower small businesses to level the playing field with the big dawgs.
When set up and optimized correctly, Facebook Ads can become a reliable income stream that produces a golden egg ROI.
FaceBook Ads: Costs vs Benefits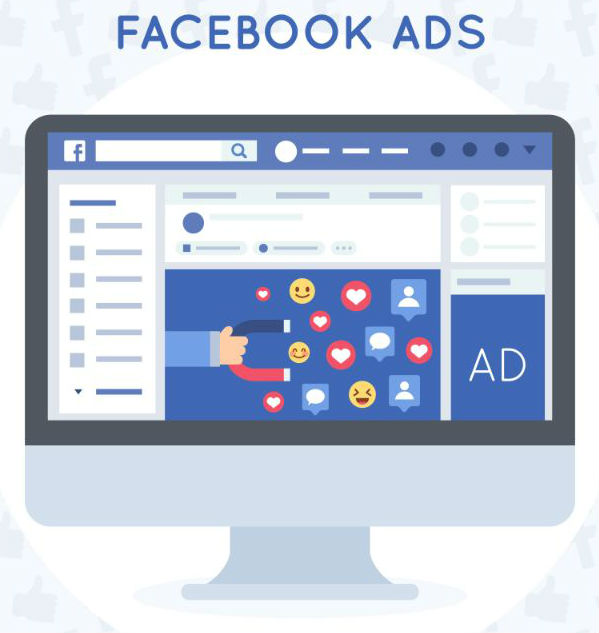 Like all other technological platforms, Facebook Ads does have a learning curve.
The time frame for you to become comfortable and then master it depends solely on your commitment.
The learning stage will require you to have patience, be determined, and, most importantly, be a hungry student.
The results you see at the onset may or may not seem encouraging, but as you learn how to optimize your ads, your big paydays are just around the corner.
If you are concerned about the cost factor of running Facebook Ads, it is very affordable, especially when you compare it with other means of acquiring traffic.
Your Facebook Ads price will decrease as your ad campaign earns a very high score on relevance, which will naturally allow it to be reachable to more people, bringing down your cost per campaign drastically.
There is another tremendous advantage with Facebook Ads, and that is, they are combined with Instagram Ads. It is possible to run both ads in one campaign connecting you to an enormous ready-made audience.
Facebook ads come in numerous formats; as a result, you will never run out of ideas​
Their reach is extensive; there are at least 2 billion people on Facebook today. Eighty percent of Facebook members are browsing the site between one or one and a half hours on a daily average
The average FaceBook conversion rate hovers around 9.21% due to remarketing, along with its ample visibility to its target audience
Facebook provides advertiser analytics tools and reports that track the performance of every ad
The cost is minuscule in comparison to what companies spend on advertising with other media platforms
Advertisers can opt for promotional packages that include FaceBook and Instagram postings
8 Steps To Set Up Your Facebook Ads
Know Your Facebook Ads Manager
There are five sections on the main menu; they are:
Plan
Create and Manage
Measure and Report
Assets
Settings
The Plan section has all the tools to set your target audience and provide creative ideas for your ad campaign.
The Create and Manage section contain the tools to create your ads.
The measure and Report section will help you analyze the effectiveness of your ads.
Assets will give you a ringside view of all the essential resources you have available to build campaigns; your saved audience list, the images you saved, videos you've used, and Facebook Pixel are all placed here.
Settings are the section where you can see your account information; your bill payments, email, etc., are all here.
Is Facebook Pixel a Vital Tool?
The Facebook pixel will help you run exceptionally successful campaigns if you use it wisely. Every Facebook Ad account gets one default Pixel. The code has two parts, the base code, and the event code.
The base code performs the important function of tracking the traffic on your site, and the even code will help you track the traffic to actions that you choose on your page.
Points To Remember Before You Get Started
It is a good idea to begin understanding the Facebook Ad algorithm in order to have the best experience.
Ensure that your advertisements provide value to the reader because Facebook is always looking to create meaningful interactions between its members.
Give a thumbs-up to ad transparency. Greater transparency allows research on competitors' pages and helps you identify trends in the market. The tab Facebook Info and Ads tab will clearly show you which Facebook page is running it.
Plan your ads meticulously. Research and collect data from your competitor's Ad account and draw inspiration for more innovative ad campaigns.
If you find a glaring gap in their ads or information mismatch, try to cash on that marketing lapse.
Consistency and creativity are the keys to producing impactful ads on Facebook. Make content to entertain, educate, and inspire your customers. Give them funny videos, and use lead magnets such as coupons, guides, etc., and watch the FaceBook Ads magic.
We hope this FaceBook Ads tutorial for beginners has helped you take your marketing to the next level!